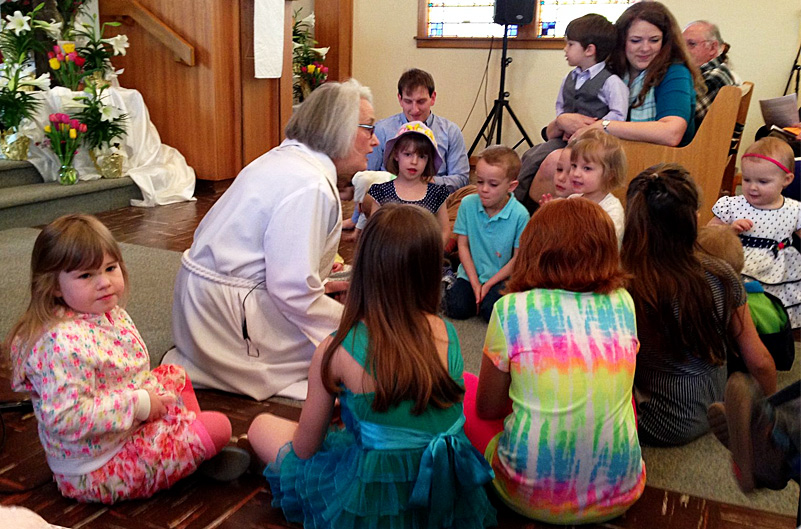 We love the sound of children in the Sanctuary in worship. They give us energy and delight; we encourage full participation in whatever way parents decide is appropriate for their child.
Participation in the Liturgy
Parents are encouraged to bring their children into the Sanctuary every Sunday morning. The very best way to teach children about the joys of worship is to sing the hymns and pray the prayers alongside your children every Sunday. Children who worship regularly alongside good parental role models when they are young are more likely to worship as adults. Support them as they sing along, allow them to dance and move as their hearts desire.
Activity Bags
Coloring books and supplies, as well as quiet toys, are available in activity bags in the back of the Sanctuary.
Children's Sermon
Prior to the sermon, the pastor invites the children to come forward to hear a special children's message. Parents are welcome to accompany their children, especially if they are reluctant to participate.
Sunday Morning Education Time
After the children's sermon, kids are invited to participate in spiritual education outside the sanctuary. Pre-K children meet in one room with adult volunteers to sing songs, color, and play. Grade schoolers meet in another room with adult volunteers to discuss a selection from the day's scripture reading and participate in fun scripture-based activities. If you are interested in helping with children's education on Sundays, please contact Pastor Christine Core.
Receiving Holy Communion
Bethel Lutheran Church's practice is to commune children as soon as parents wish their children to receive the consecrated elements in which we believe the crucified and risen Christ is present. The ability to reason as an adult is not a prerequisite. However, when infants and young children are communed, parents and sponsors, along with the support of the pastors, should receive instruction about how receiving Holy Communion is receiving God's gifts of forgiveness of sin, life, and salvation to be received by faith for the strengthening of faith. This is part of anyone's lifelong journey of faith development.
Ushering
With parent or other caring adult assistance and coaching, children as young as four or five are encouraged to learn the task of ushering: handing out worship bulletins and collecting offering. Children can be scheduled to Usher as often as parents wish.
Communion Assistants
As soon as a child is able (usually about grade 1 or 2), the pastors will happy to work with parents and children to instruct them in the proper serving of the Communion grape juice. Children can be scheduled to serve Communion as often as parents wish.
Lectors
Once children become fluent readers and overcome any fear of standing in front of an "audience", the pastors will be happy to train them to read the lessons from scripture for any given Sunday morning.
Sacristans
Older elementary age children love the opportunity to set the table for Holy Communion. As soon as a child is able, about grade 2, the pastors will instruct a child and their parent on the proper way to set the Table for Sunday morning's Holy Communion Service and how to clear the Table and clean the chalices and paten. Elementary age children will need parent help until they learn the task after which they can perform the Sacristan duties independently.